U našoj školi je 27. marta obilježen Svjetski dan pozorišta. Tom prilikom je izvedena predstava na engleskom jeziku ,,Sugar and Candy'', koju su pripremili učenici VI-b odjeljenja i njihova nastavnica Ana Drašković.
Pripovijetku ,,Sugar and Candy'' je 1992 godine napisala Elizabeth Leird, britanska književnica koja je sav svoj rad posvetila djeci i dječijoj književnosti.
,,Sugar and Candy'' je priča o prijateljstvu, hrabrosti, praštanju i ljubavi…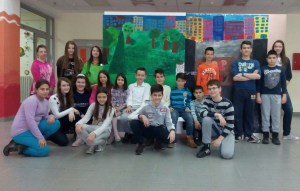 Role-play: Sugar and Candy
Jovana: Our dear guests, we feel extremely happy in welcoming you.We hope you will have amazing time with us. On this occasion, we will present our efforts to prepare and role- play story Sugar and Candy.
The story was written in 1992 by Elizabeth Leird, a world famous British writer of children' s fiction.
Elmina: Sugar and Candy is a story about friendship, courage, forgiveness and love. The main character is Sugar, a good and sincere girl, a friend who gives without expecting anything in return.
She is sweet and pretty and she is good- looking. Her friends like her.
(Sugar is sitting in the park ...)
Tea i Sara: Hi, Sugar!
Boban: Hi! What are you doing?
Sara: Oh, hi! We are waiting for you!
Đorđe: Sugar, you look great today! You are so good- looking!
Sara: Gee, thanks Danny! You are so kind! Where are the rest?
Đorđe: They are coming. They were watching a football match.
Ivana: I have some delicious chocolate cookies. I tried them yesterday, they are so good!
Sara: We can eat them together!
Boban: Yes, of course. I can't wait!
Đorđe: They are coming now…
(They laugh…)
Matija: Hi, guys. The match was great. Our school team won.
Ida: Sugar, Joe is in a great mood because he gave one goal. He has a present for you.
Uroš: Yes, Sugar,I`m so happy, these flowers are for you!
(They laugh…)
Ida: These emotions are interesting!
Katarina: Yes, the love is in the air!
Sara: Don't tease him! He is so good!
Matija: The weather is great. We have a lot of free time, what shall we do?
Ida: We can sit here and talk…
Ivana: Yes, we can…
Katarina: Or… we can go to children's playground…
Sara: You decide, we will have a great time together!
Đorđe: We can visit the amusement park. It's new in town, there are many new attractions!
Aleksandra: Yes, we can go there. It sounds interesting!
Matija: Yea, I went there last week, it was awsome. There is a Raptor, a winged roller coaster. It's cool!There were Billy and Amy, also!
Boban ( Billy): That's a great idea! I tried Colorado Boat. It's an attraction where you can feel the rapids of Colorado river!
Ivana ( Amy): The Flying Island is great. We can jump in the sky up to 50 metres!
Radovan: Wow, I would like to go!
Uroš: Ok, let's go now!
Đorđe: Look! Who is this? Do you know this girl? She is so good-looking and trendy!
Ivana: Look her roller- skates. They are so good and modern!
Vuk: She is so pretty, we must know who is she!
Radovan: Hi! You are new here. We don't know you. What's your name?
Nikolina: Hello! I'm Candy. I'm from London City. I came last week and I don't know anyone here. I'm looking for some new friends.
Tea i Sara: You are nice!
Katarina: You are so stylish, your clothes is beautiful and your stereo is great!
Nikolina: Thank you! I like trendy clothes.
Vuk: Hey, Candy! You are so cute, we can be your new friends. This apple is for you!
Uroš: Candy, do you like flowers? I want to give you some roses…
Nikolina: Thank you, very much. You are so kind. Do you want to visit me? My house is two streets from here.
Đorđe and Ivana: Come on, let's go with Candy!
Radovan: Yes, guys! Let's go!
Sara: Wait! What are you doing? You are leaving me?
Aleksandra: I'm sorry, Sugar, we are going with Candy!
Isidor: I can`t go with you. I must go home.
( He is leaving the scene...)
Jovana: Sugar doesn't have a stereo. She doesn't have roller- skates. She doesn't like Candy and her clothes. She doesn't like her sweet, pretty voice. She calls to her friends.
Sara: Come with me! We can go to the drugstore! Come and buy some ice- cream or hot-dog or a drink.
Ida: Sorry, Sugar! We are going with Candy!
Boban: We are going to buy ice- cream and hot- dogs with Candy.
(Friends laugh and go away with Candy)
Elmina: Sugar's face is red. She is unhappy. She cries. Then, she hears something. She looks up. She sees Foss and Tiger. She doesn't like them. They always make trouble. Foss is holding a little boy. Sugar is frightened but she wants to protect him.
Isidor: Help! Someone, help me!
Vojislav: Hey, boy! Give me your money!
Isidor: I don't have any money, I swear! Stop, you are hurting me!
Vojislav: I know you have, give it to me!
Sara: Hey,stop that! Don't hurt that little boy!
(Foss takes her arm. He pushes her. Sugar falls down. She shouts to the little boy.)
Sara: Quick,kid! Run! Go and get my friends!
(He runs away)
Vojislav: Tiger,catch him! Quickly!
Emir: I can't! He is very fast!
Vojislav: Come on , Tiger! Let's go out of here! Her friends are coming!
Emir: OK! Hurry up!
(Sugar friends run up to her. She stands up)
Isidor: Thanks Sugar,you are wanderful.
(He talks to others)
Isidor: She saved me, she is so brave!
Đorđe: What was that, Sugar, what happened?
Ivana: Yes, Sugar, tell us, we are here to help you.
Sara: There is not much to tell. It's important you are here.
Matija: Sorry, Sugar! We made a mistake, we went with Candy and you were alone!
Sara: I forgive you. You are my friends and I love you.
Jovana: Sugar's friends laugh and smile. They forget Candy's pretty clothes, her roller- skates and her stereo. Sugar is brave and kind. They want Sugar now.
(Sugar smiles,then she sees Candy. Candy is alone. She is unhappy.)
Sara: Come on, Candy. Come and have some ice-cream with us.
Nikolina: Thank you, Sugar. You are so good. Can I be your friend?
Sara: Of course, Candy. All together,we will be good friends.
Nikolina: I'm so glad to meet you all!
(The whole group is happy,they are all good friends now.)
Elmina: Dear guests, this was a role- play we prepared for you. We hope you liked it. Thank you for being here and for watching us. See you again!